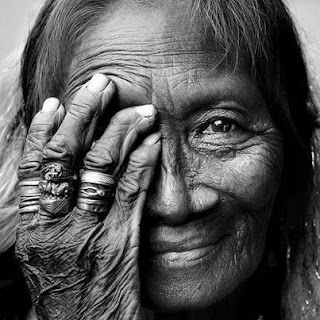 As human beings, we seem to have the innate instinct to want to look beautiful and pretty in order to attract the love, warmth and the attention we seek.
We live in a society that defines beauty and changes its definition on almost a daily basis. Every culture has a different description which in turn changes with time. One minute if you're a bit chubby and have rosy and plump cheeks you're considered to be healthy and gorgeous, the next minute, beautiful means having little or no fat anywhere in the body and very apparent cheek bones.
What are we to do to stay attractive and beautiful in this ever changing world that changes permanently – not to mention our own inescapable physical changes?
My answer to that is to move away from the impermanent definition of beauty, to the permanent essence which cannot be defined.
Beauty is who you are. It is not something to 'try to be'. The knowing that you cannot BE anything other than beautiful is what radiates beauty right from its source. It's what emanates from within. It is the treasure we are all born with. Sometimes, some of us, instead of allowing it to shine through our being, cover it with our mental definitions and become blind to what we truly are.
To look stunning on the outside you can:
REMEMBER WHO YOU ARE
You are a miracle creation of this magnificent universe and every cell of your body vibrates with the same splendor that lights up the sky. Every feature of your body has been carved by the same sculptor that created this breath-taking universe.
KNOW THAT YOU ALREADY ARE THE LOVE YOU WANT TO ATTRACT
Our entire conditioning is based on getting what we're looking for from outside of ourselves. Whether we know it or not, many of our actions are based on wanting to 'get' and 'take' from our environment. The same applies to our desire to look dazzling–there is a hidden agenda of getting love and warmth. When we remember who we are and, know that all we ever look for is deeply rooted in our core, our intentions which fuel our actions change. We no longer glamorise in order to take from others but, to share our unique glory.
SHARE YOUR REAL BEAUTY
It wants to share what is flowing from deep within and it does that naturally. All we need to do is relax into this knowledge and drop the belief that beauty has to fit to certain criteria. If we try too hard to look attractive we take away what is already there. I have seen many ladies wearing something uncomfortable to fit into a set criteria and lose the natural flow in the process.
RELAX, BE COMFORTABLE and LET THE BEAUTY OF LIFE SHINE THROUGH
November 2009