Our classes are suitable for adult beginners, intermediate and advanced students.
We will update the schedule, so please pop in to find classes that would suit you.
Namaste & Stay safe!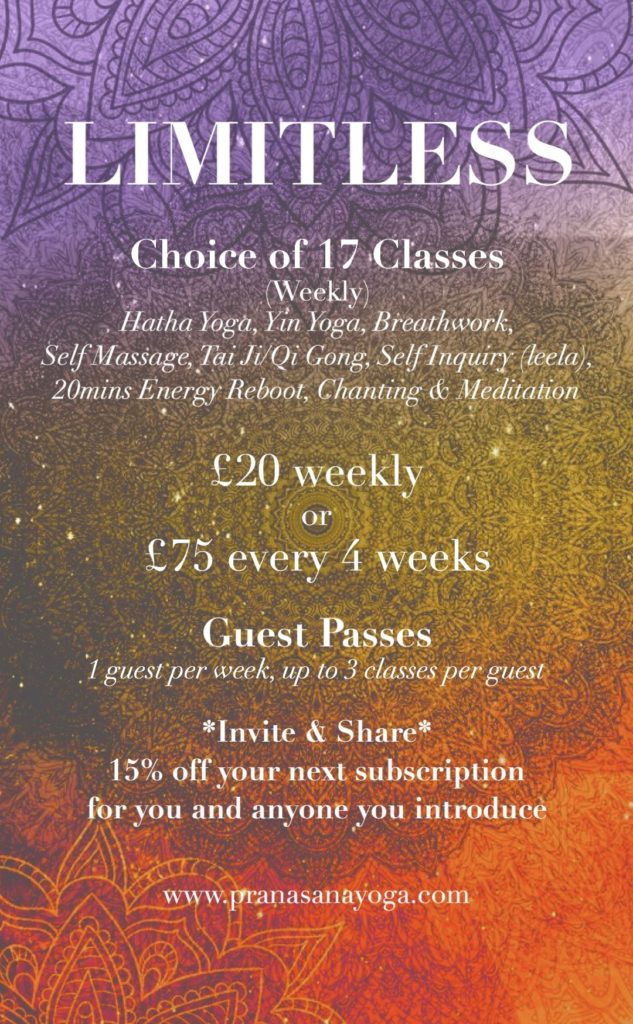 Drop-In
Group Classes:
90 mins: £9
60 mins: £6*
20 mins: £3
Meditation/chanting: £9
One2ones: £40 ph
* Self Enquiry (Leela) & Chanting/meditation classes: £9
---
Rainbow Retreat



Combine Friday PM classes for £18
We would like to make these classes available for all those who will benefit. Please do not feel obliged to pay. Especially, if you have lost your main source of income due to the CV. Same applies for key workers in need of the support that Yoga provides.
TUESDAY
Hatha Yoga
10 – 11am
Matt
---
Tai Chi/Chi Kung
11.30am–12.30pm
Matt
---
Energetic Reboot
1–1.20pm
Dorna
---
Hatha Yoga
7.30–9pm
Dorna
WEDNESDAY
Hatha Yoga
10 – 11am
Matt
---
Self Massage
6–7pm
Dorna
---
Hatha Yoga
7.30–8.30pm
Matt
THURSDAY
Hatha Yoga
8–9am
Matt
---
Energetic Reboot
1–1.20pm
Dorna
---
Self Enquiry (Leela)
6–7pm
Dorna
---
Hatha Yoga
7–8pm
Matt
FRIDAY
Hatha Yoga
10 – 11am
Matt
---
Pranayama Breathing
4.30–5.30pm
Dorna
---
Yin Yoga
6–7pm
Matt
---
Chanting and meditation
7.15–8.15pm
Matt and Dorna
SATURDAY
Hatha Yoga
10 – 11.30am
Dorna
---
Hatha Yoga
11.45–1.15pm
Matt