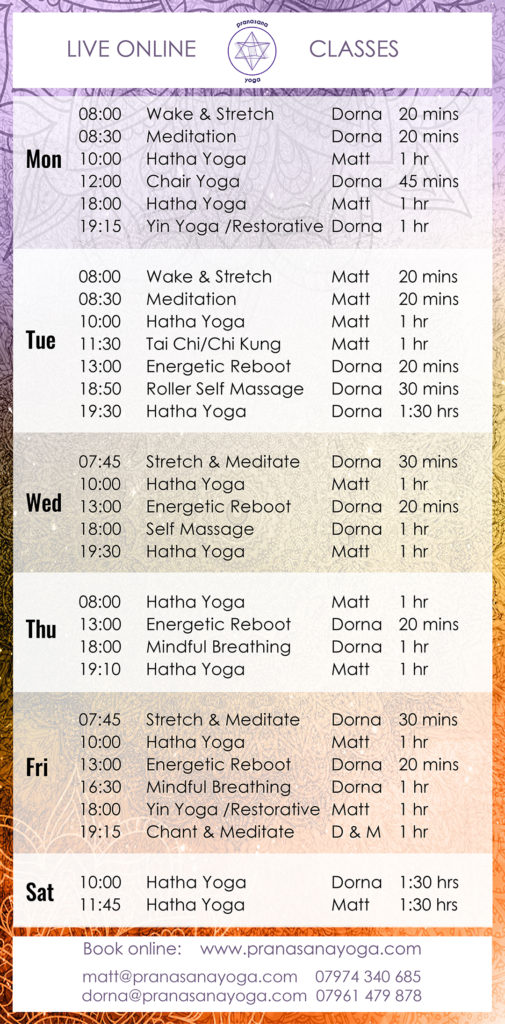 Pricing
Excluding Booking fees
We would like to make these classes available for all those who will benefit. If you have lost your main source of income due to the Covid-19, please let us know as we would like to provide a service and support whoever needs the support that Yoga provides.
Hatha Yoga
Classical yogic posturing, breath and relaxation/meditation techniques. Slow, gentle, deep practices.
Tai Chi/Chi Kung
Chinese martial art for health and well being - slow gentle classical sequences combined with breath work.
Meditation
Guided mindfulness meditation to calm and centre the mind. A wonderful tool that promotes wellbeing on all levels.
Self Massage
Taoist methods of self massage any time or place, promoting well being and balance mind~body~spirit.
Mindful Breathing
Pranayama (yogic breathing)  practices promoting balance and health. Centre, strengthen, clarify, energise.
Yin / Restorative Yoga
Restorative Yoga / Tao Yin to release and unwind the body, breath and mind after a busy week.
Energetic Reboot
When work is too busy use these ancient energy balance methods of the Kriya and Taoist masters.
Chanting
Simple chants, interluding meditations align body, breath and mind. healing, inspiring, intoxicating!
 Chair Yoga
Lunchtime special for those hunched over at their desk or other all day or senior enthusiasts. Ideal for balancing posture.
Wake Stretch & Meditate
Wake up in style! Set your day on a positive note of self care and wellbeing with a short practice, ideal before work.
Book A Class
Scroll down to find the category you are looking for.