Our classes are suitable for adult beginners, intermediate and advanced students.
If you are using the on-line booking system further below you will see there is a nominal booking fee added on top of the prices we quote just below.
Namaste & Stay safe!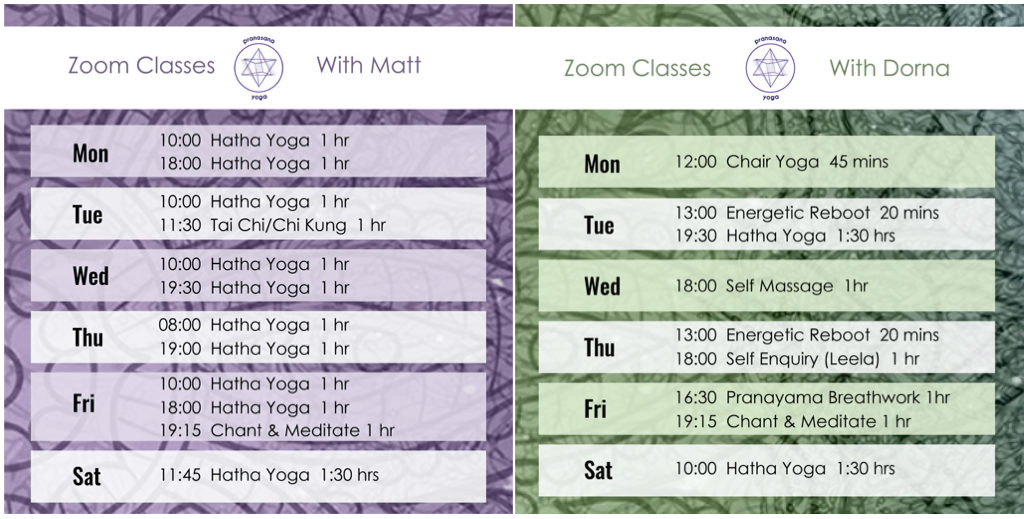 Rainbow Retreat



Combine Friday PM classes for £18
(Pranayama breathwork + Yin Yoga + Chanting & Meditation)
We would like to make these classes available for all those who will benefit. Please do not feel obliged to pay. Especially, if you have lost your main source of income due to the CV. Same applies for key workers in need of the support that Yoga provides.
Hatha Yoga
Classical yogic posturing, breath and relaxation/meditation techniques. Slow, gentle, deep practices.
Tai Chi/Chi Kung
Chinese martial art for health and well being - slow gentle classical sequences combined with breath work.
Energetic Reboot
When work is too busy use these ancient energy balance methods of the Kriya and Taoist masters.
Self Massage
Taoist methods of self massage any time or place, promoting well being and balance mind~body~spirit.
Mental Detox (The Play)
Questioning limiting stressful beliefs and thoughts that are at the core of tension. Using the mind to free the mind.
Breathwork
Pranayama  practices promoting balance throughout. Centre, strengthen, clarify, energise.
Yin Yoga
Restorative Yoga / Tao Yin to release and unwind the body, breath and mind after a busy week.
Chanting / Meditation
Simple chants, interluding meditations align body, breath and mind. healing, inspiring, intoxicating!
Chair Yoga
Ideal for lunchtime and senior enthusiasts. Short practice to centre and body~ mind reintegrate
Wake Up Core!
Breathing and other techniques to strengthen the core, detox and massage organs and improve digestion.
Browse our schedule and book your class below. New Students please make sure you complete and return before the session the ZOOM PRANASANA YOGA HEALTH FORM.
Please let us know the full name of any guest you are bringing before they attend the session, if you have our LIMITLESS Plan.